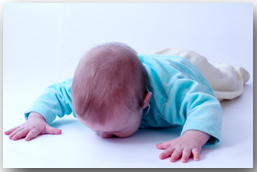 En bebis utveckling går med raketfart. En nyfödd bebis ser helt annorlunda ut och beter sig helt annorlunda än en 2 månaders bebis trots att det de facto bara skiljer 8 veckor på dem. Det kan vara ganska informativt och så klart kul att titta på videos om barns utveckling, för att få en känsla för hur ens bebis kommer att vara om några veckor. Om man känner sig slutkörd i början och kanske lite bekymrad över bay acne, spattiga rörelser, vindögdhet och annat kan man titta in lite i framtiden. I vårt videogalleri här nedan finner du ett stort antal videos om bebisars utveckling.
Om du vill läsa om milstolpar, lektips mm för barnets första år, så hittar du det här.
Videogalleri – Bebisars utveckling
Developmental milestones that parents can expect at the end of the third month of infancy.
St. Louis Children s Hospital Chief Medical Officer, Dr.F. Sessions Cole, provides some advice fo
Dr. Glenn Tripp, a Developmental Pediatrician with Mary Bridge Children s Health Center, shows yo
Your Baby 1 to 12 Month by Month Development Growth after Birth. Everything you need to know ab
Dr. Glenn Tripp, a Developmental Pediatrician with Mary Bridge Children s Health Center, shows yo
Dr. Glenn Tripp, a Developmental Pediatrician with Mary Bridge Children s Health Center, shows yo
Dr. Glenn Tripp, a Developmental Pediatrician with Mary Bridge Children s Health Center, shows yo
Milestones are an exciting time in your baby s life. Dr. Charles Sprague, Board Certified pediatr
Dr. Glenn Tripp, a Developmental Pediatrician with Mary Bridge Children s Health Center, shows yo
Watch our 6 Month Old Baby Typical Atypical Development Side by Side with narration here: https