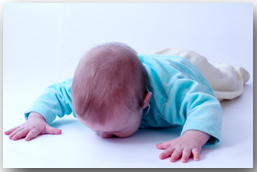 En bebis utveckling går med raketfart. En nyfödd bebis ser helt annorlunda ut och beter sig helt annorlunda än en 2 månaders bebis trots att det de facto bara skiljer 8 veckor på dem. Det kan vara ganska informativt och så klart kul att titta på videos om barns utveckling, för att få en känsla för hur ens bebis kommer att vara om några veckor. Om man känner sig slutkörd i början och kanske lite bekymrad över bay acne, spattiga rörelser, vindögdhet och annat kan man titta in lite i framtiden. I vårt videogalleri här nedan finner du ett stort antal videos om bebisars utveckling.
Om du vill läsa om milstolpar, lektips mm för barnets första år, så hittar du det här.
Videogalleri – Bebisars utveckling
See the 8 different motor milestones baby should be reaching by 12 months old. There is a clip of
Parents of a premature baby may have concerns about their child s development. Bundoo Pediatricia
2 Month Old Baby Milestones, milestone mastery edition brought to you by BabyPillars. Start maste
12monthbaby #babydevelopment #babymilestones #1yearoldbaby #12monthbabydevelopment #twelvemonthba
All about Hunter and her developmental growth at 5 months.
Wondering what your baby will be able to achieve in his first twelve months of life? This milesto
Is your baby close to completing its first two weeks or is already one month old? In this video,
This video is all about your kiddo s major developmental milestones at 1year old. ****CLICK HERE